I'm trying to work hard to claim a style that is mine shooting studio headshots; I love a low depth of field on a portrait, there's something about it that I think gives a more natural and magical feel to an image. There are a few issues I've been finding when shooting this style and I'm trying to find the best ways of dealing with them.
Lighting - I have become a big fan of a singular light source, mainly due to time as I usually shoot on weekday evenings so only get a couple of hours, and once makeup and clothing is sorted out sometimes I might only have about an hour. Using a single light does have limitations and has caused me a few small issues - nothing that can't be resolved - but things that have started to become more noticable. For example, catchlights tend to be seen in the models eyes - with my silhouette in there too. The reason for this is simply to get the shallow depth of field I need to lower the aperture, and as a result I need pretty minimal light - having the light on low power and a little further from the subject helps, but then I'm left with the gap between the model and the light having me stood in it.
Having looked into the work of Martin Scholler and finding the lighting setups that would closely imitate the style, I came across a great one that mentioned using two strip lights in front of the model's face and shooting inbetween them. The result being that you'd get a couple of great catch lights in the eyes and very little 'photographer'. The other thing about this setup was that it required a neutral density filter to be attached to the lens; something I hadn't been used to using in studio. I managed to get one which had a 10 stop density - something that used correctly would give me the option of having the studio lights on a high power and keep the aperture low.
Holly agreed to come along and be my test subject for this - its hard to get the opportunity to try and test ideas and setups, so I tried to make the most of it! Sadly the studio didn't have 2 strip softboxes, so I was left wondering if the large octobox would work - it didn't mean I would be able to remove my silhouette without eding or better positioning, but it did mean I could try the ND filter and see how it worked.
Wow it was harder than I thought! The filter was brilliant at handling the bright lights, meaning I could get a better exposure with a very low aperture - using a 50mm prime lens at f1.4 it meant I was reducing my focus point to an absolute minimum. The huge downside was that the filter was so good I could barely see to focus on Holly. On a couple of occassions I was questioning if I'd actually taken the lens cap off (yep, it happens more often that you'd like to admit!).
As you can see from the example above, trying to get the correct focus point given the view I had wasn't easy - but after a little patience, I began to find my feet. Holly is a brilliant model and poses superbly well, meaning she could hold poses and expressions for a decent length of time for me to compose and focus, before firing the shutter.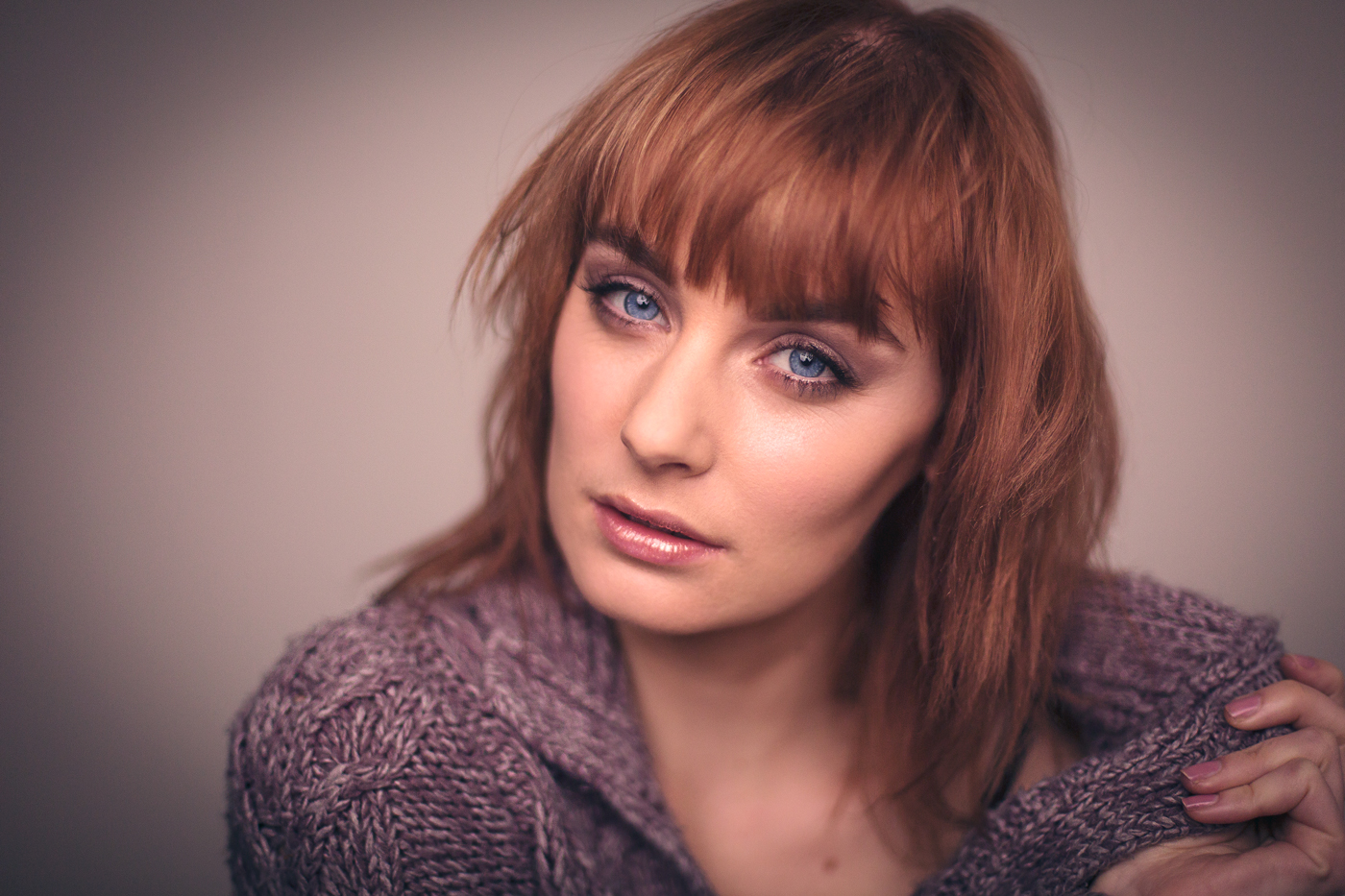 I tried going back to my 'usual' setup without the filter, but it lacked the contrast that the others had and I found the images looking flat and a bit bland. So back on went the filter and we got a few more.
The conclusion I'd make from this experiment was that the filter worked really well, but I'd probably try and find a happy medium - the filter was cheap, only £20, so I wasn't expecting it to perform miracles. I wanted to see the difference it was going to make and see if in the futurefew different filters might be useful in offering a new look/feel to my work. The poor visibility made things quite tough and I'd hate to have models force-holding poses for any longer than they have to - in fact my favourite shot was when Holly was caught off-guard and laughing.